Now that you are back at work and you still want your baby to have the nutrients and goodness of breast milk, pumping at work may be the answer you seek.  If you're a first-time mom or first time working and pumping mom, here is your go-to guide for how to pump at work.
If you're a first-time mom or first time working and pumping mom, here is your go-to guide for how to pump at work.
Your rights as a working and breastfeeding mom
As a working mom you're well within your rights to pump at work.
In the US: "Federal law requires employers to provide reasonable break time for an employee to express breast milk for her nursing child for one year after the child's birth each time such employee has need to express the milk (Section 7 of the FLSA). Employers are also required to provide a place, other than a bathroom, that is shielded from view and free from intrusion from coworkers and the public, which may be used by an employee to express breast milk."
How to prepare to pump at work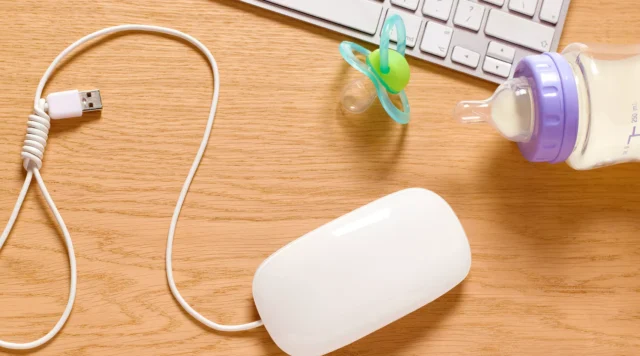 There are several things you will need and some things you will need to do in order to prepare yourself to pump at work.  Depending on your situation with your work force/team, you will need to let your boss know and work out an agreement with them.  Maybe you will need additional time during the day to be away from where you work, or if your job allows, then you could pump whilst still working.
It's difficult to pump if you're a yoga instructor but easier to do if you're a keyboard technician. Yes, we are amazing multi-tasking beings.  In saying that, if you don't feel comfortable pumping at your desk and still working, you don't have to.
If this is the first time a pumping/breastfeeding mom is needing to pump at work, you may need to allocate enough time to allow your boss to set up a pumping station for you that is not in the stationery or stock room. If there are other pumping moms, you may also need to schedule around them or request additional lounges to do so.
Pumping work basics checklist:
–   Pump
–   Bottles
–   Storage containers
–   Pumping bra
–   Fridge/freezer access or cooler bag & ice packs
–   Pumping-friendly clothing
–   Cleaning supplies for your pump and apparatus
–   A place where you can comfortably pump
Where to pump at work
This will all depend on your type of work and where you are comfortable to do so. You may have an in-bra pump and can wear this wherever you are. You may need a quiet area to pump, or you may feel comfortable pumping at your desk or operating your excavator.
When to pump at work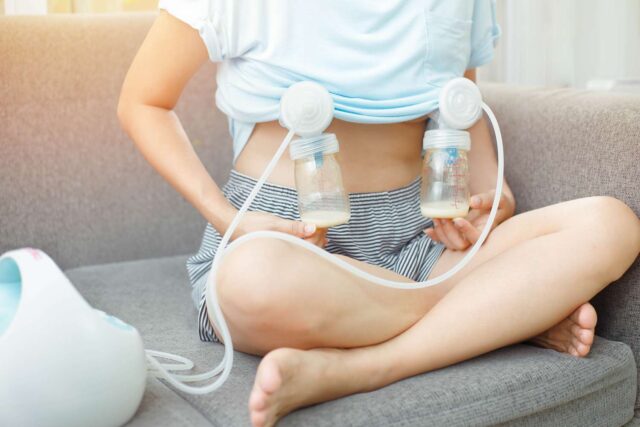 When you pump at work will be determined by when you usually nurse your baby and how old they are and how often they feed. It's best to stick to these schedules to avoid engorgement and to keep your milk supply at a steady rate.
You may also need to fit in with your work schedule of meetings, appointments, travel, and other scenarios that deem pumping a bit more difficult than at home.
How to store pumped milk at work
How you store your pumped milk will depend on whether you're using it within 24 hours or if you'd like to store it (refer to chart below).
The best place would be in the fridge or freezer at work, however if you don't have one you could be prepared with freezer blocks and a cooler bag. These are also handy if you work a long way from home or if you need to make a few stops on your way.
If you are only pumping to keep up your milk supply, you can simply tip it down the drain or store it for donation to a milk bank of your choice.
Storage tip: Ensure each pump is labeled with the date and time so you know when to use it by.
Storage location and temperatures
Type of breastmilk
Countertop:

77ºF (25ºC) or colder (room temperature)

Refrigerator:

40ºF (4ºC)

Freezer:

0ºF (-18ºC) or colder

Freshly expressed or pumped
Up to 4 hours
Up to 4 days
Within 6 months is best. Up to 12 months is acceptable
Thawed, previously frozen
1-2 hours
Up to 1 day (24 hours)
Never refreeze human milk after it has been thawed
Leftover from a feeding (baby did not finish the bottle)
Use within 2 hours after the baby has finished feeding
Cleaning your breast pump at work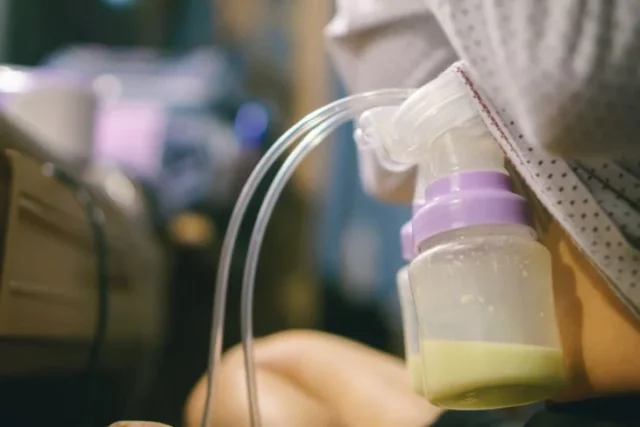 Cleaning your pump equipment at work should be done the same way as at home. Generally, pump cleaning is as follows but please follow your manufacturer's instructions:
Rinse in warm water
Use a basin and fill with soap and water
Scrub parts accordingly
Rinse
Dry
Your colleagues may not appreciate you washing your pump in the lunchroom sink and there may be a lot of unsanitized surfaces in and around the sink.  Workplace lunchrooms are usually not the cleanest areas (thanks Jimbo from sales) so a good idea is to take your own basin that you can wash your pump parts in and a clean calico bag to put them in to dry or a clean dish towel to wrap them in.
Tips:
Make sure you've got water that is hot enough, if in doubt – boil the kettle.
Wash your hands before and after.
If there is a microwave, you could invest in a microwave sanitizing kit.
Take additional parts so if you need to pump more than once at work, you don't have to worry so much about cleaning and drying them, as these things all take time.
Taking care of yourself while pumping at work
Be careful not to get pumper's guilt.  You are entitled to take breaks to pump or express and these do not have to encroach on your lunch or bathroom breaks. Some colleagues may be jealous of or frown upon these breaks, especially if they do not have their own children or are immature in their views on motherhood. A friend of mine took up smoking because her co-workers were allowed a smoking break, and she wasn't because she didn't smoke.
Make sure you're eating enough snacks and drinking enough water. Avoid coffee and teas as these can diminish your milk supply and the caffeine can pass to your baby.
Pumping when you travel for work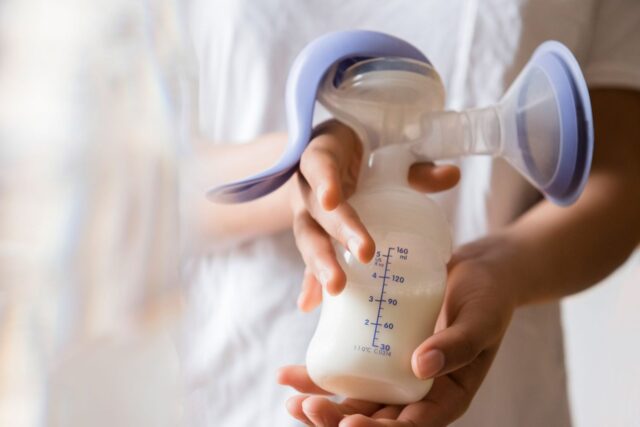 You may not have the luxury of your lactation pod at work when traveling interstate or overseas. Being a mom means being a lateral thinker and making things happen, so take this attitude to the midnight express or airplane bathroom.
Tips for what to pack:
–   Pumping bra/s
–   Sanitizing wipes
–   Poncho or nursing cover
–   Battery pack
–   Additional pumping parts
–   Hand pump
Tips for pumping at work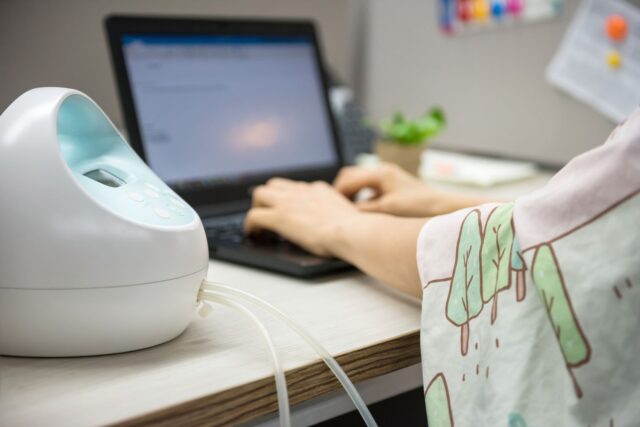 Practice pumping at home before pumping at work. Set realistic timelines and let your boss know how long it takes to pump, clean your apparatus, and store your milk. It takes longer than nursing your baby and you should be telling them how long it takes, not the other way around.
If you can wear a pumping bra, these are easier to navigate rather than using the ones that attach or detach. Choose one that is simple to use such as the Pumpkin Pumping Bra from CakeMaternity. This one is a t-shirt bra and doesn't have any fiddly layers to contend with, is discreet and has a number of cup fittings to accommodate most sizes, unlike many other pumping bras that are smaller busted only.
If you're using an in-bra pump, buy a seamless bra that is approximately 2 cup sizes bigger than your current fitting bra. For smaller busted mamas, cotton nursing bras are a great option. If you're on the bustier side, however, check out that G-K cup which has a platform sling that could be perfect for holding the pump in place.
If you're having trouble with your let down, relax and think of your baby.  Use your phone to look at pictures of your baby rather than Instagram and other sites that may distract you from the task at hand.
Make sure you've got enough time in the day. This is easier said than done when you're a mother, as I'm sure you're eating breakfast in the car and have just gotten ready in about 12 minutes flat. If you're prepared with a schedule for pumping, cleaning and other breaks, your mind will be ready to go.
Don't be disheartened. If you can't pump immediately or not very much, this is ok and just like returning to work and being a bit behind the 8 ball, you will get better at it the more you do it.
Everyone is different and each workplace and scenario is different. There may be obstacles along the way, or you may take it in your stride on the first step.  You're away from your baby and this can be difficult to deal with on its own, so be kind to yourself and remember you're doing a great job.