Many new things have been happening in your life if you are a new mother. And one of them is breastfeeding.
Breastfeeding is special moment mothers have with their children. A special moment of bonding that you can't compare with anything else. And it's even difficult to explain to those that haven't experienced it.
But there is the other side of the story. Breastfeeding can often be exhausting and stressful. And if you are one of those mothers that don't think that is breastfeeding magical, you are not alone. And if you are feeling overwhelmed, you need to know that it's completely normal to feel like that. Just don't be harsh on yourself.
That's why it's always good to have something that will make your life less complicated. And believe it or not, an app can help you. Yes, you've read that right – an app.
On a hectic day, it's sometimes difficult to remember when the last time you nursed your baby was. That's when breastfeeding apps come in handy. They will help you track the breastfeeding sessions. And that's not all; you can even keep a record of how long the sessions are, and some other info on your baby.
And maybe you are asking yourself why those things are essential to keep track of. Well, because they can give you a better picture of repetitive events and you can work your schedule around that. After all, the point is that these apps can help you organize better. And when you are organized better, your life is more comfortable. Meaning you will be happier and your baby too.
We've made a list of the best breastfeeding apps that will make your life easier and breastfeeding a more pleasant experience. And here they are:
1. Baby Feeding Log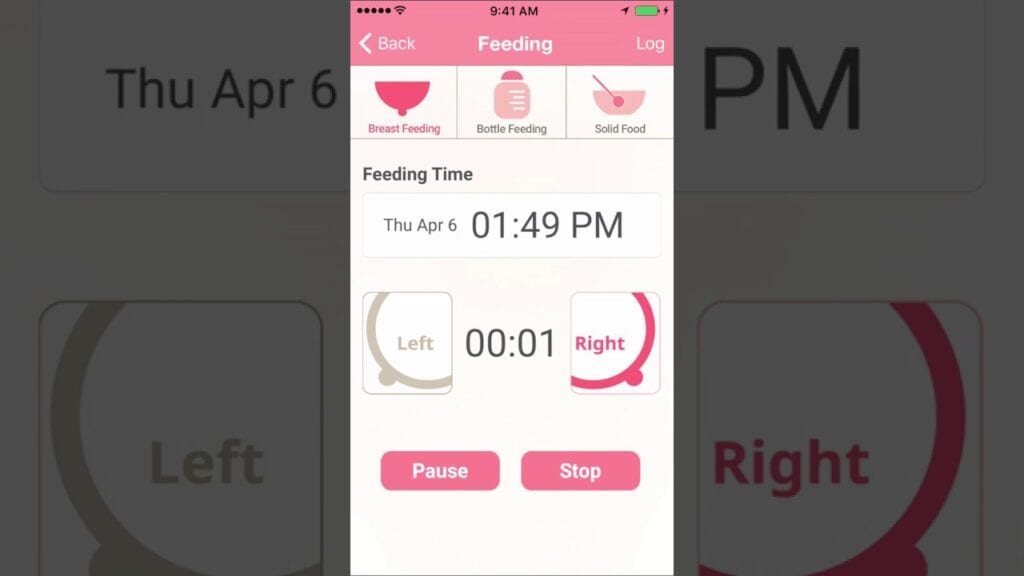 If you don't like complicated apps with lots of features, this one is for you. With Baby Feeding Log, you get a basic timer with which you can track the nursing time. You can see when the last feeding time was, and you can add which side you used. And what's important the app is free. Baby Feeding Log is available only for iPhone users.
2. Baby Connect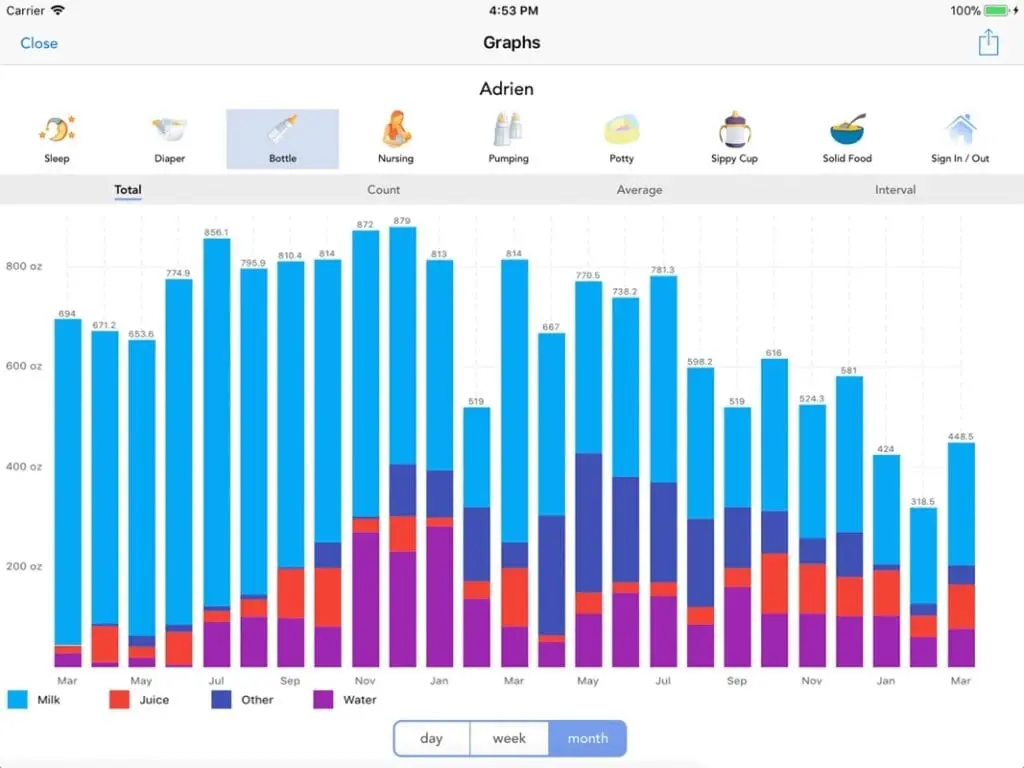 This app is a total opposite to the previous one, because it's everything but basic. You can track feedings and baby's milestones. The feeding tracker offers you to log entries and use the timer for the nursing session and pumping as well. You can see how long it was since the last session, and you can add which side you used the last time. It's great if you want to see the overall situation because you can track your data with the help of graphs, reports, trending charts, and weekly averages. The only possible downside is that this app is not free, but you really get a lot for the price of $4.99. The app is available both for iPhone and Android.
3. Baby Tracker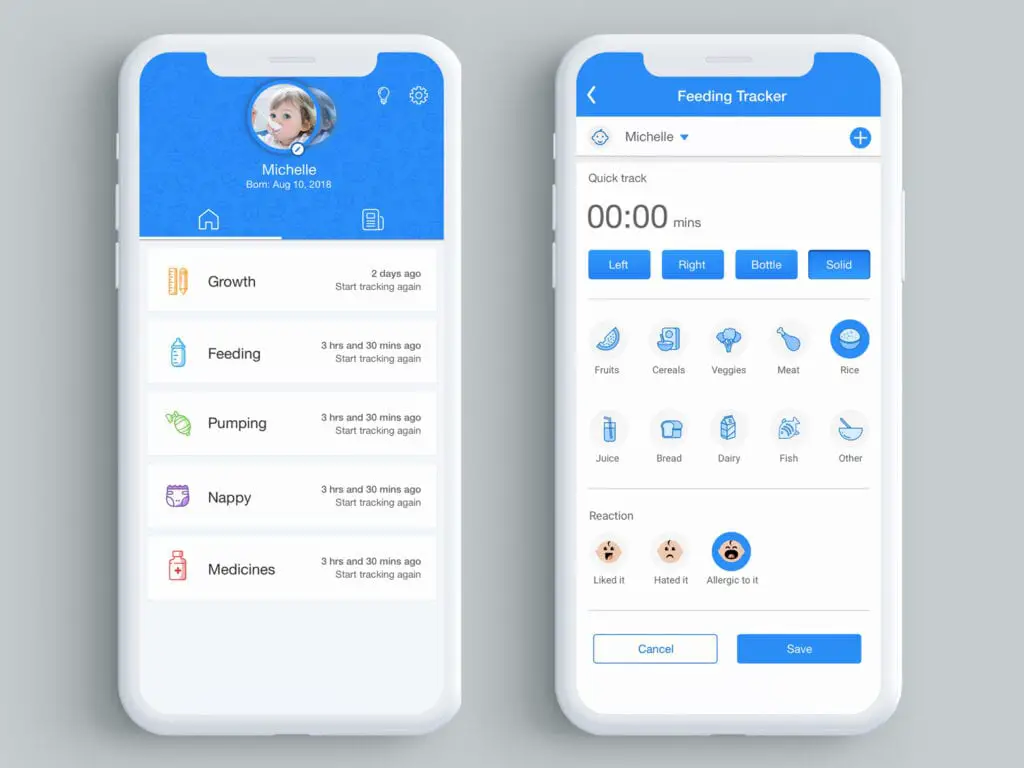 This app is a good match for those looking for an app with a lot of features and those that would like to log as many baby habits as they can. With Baby Tracker, you get a chance to track almost everything about your baby – its habits, health details, and milestones. When it comes to the feeding tracker, it comes with a start and stop the timer. You can change the settings from nursing, formula to solids, or any other combination. You can track nursing time per breast or session. The app even has a notes section where you can add details about your baby, like its preferences or allergic responses. Just like the previous app, this one also costs $4.99, but you get even more than you need for that price.
4. Baby Breastfeeding Tracker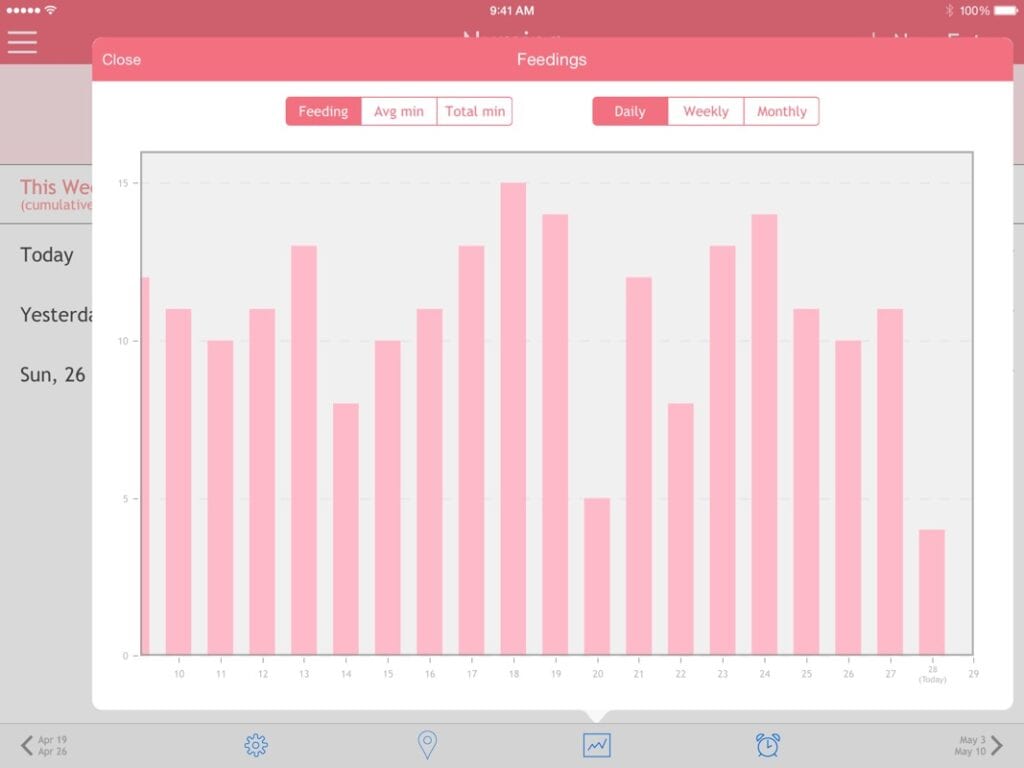 If you decide to download this app, you will get a timer that is very easy to use, and the app will show you detailed information about your nursing sessions. You will be able to see the most recent nursing, your daily average, totals, and graphs. And a great feature is that you can sync Baby Breastfeeding Tracker with your partner or childcare provider so that everyone knows and is aware of the baby's schedule. This app is free for download, but it has some in-app purchases if you want some additional tracking. Baby Breastfeeding Tracker is available only for iPhone users.
5. Hatch Baby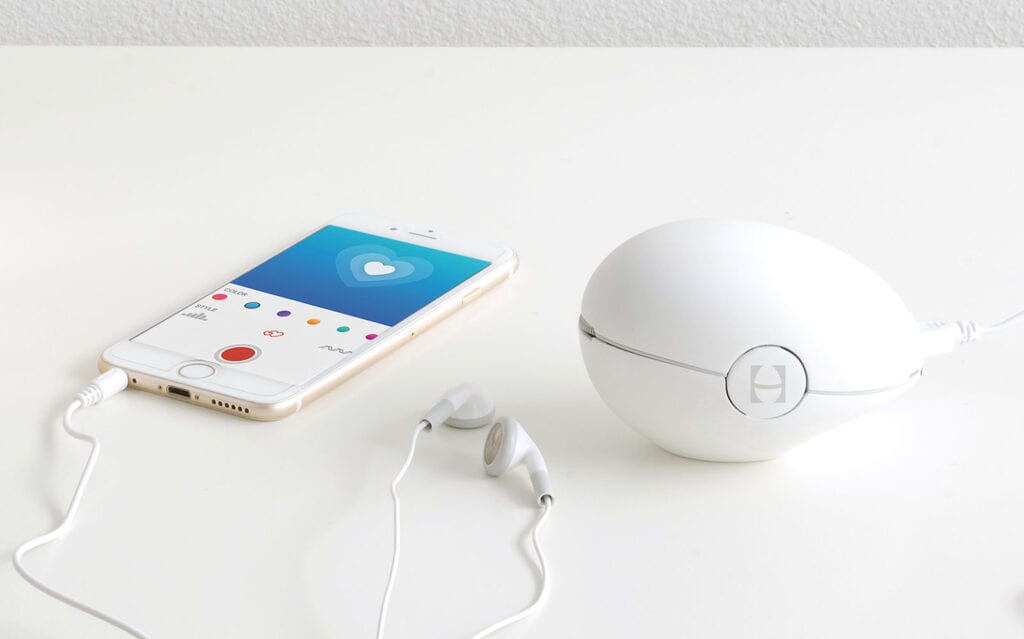 This app with the super-cute name can track growth and health data of your baby, and of course, the breastfeeding. It has a one-tap timer for tracking breastfeeding sessions, and bottle sessions. You can connect this app to the Hatch Baby Grow Smart Changing Pad, and it will measure exactly how much your baby eats every time you breastfeed. It can be a real life-changer. The app is totally free, which is excellent. And you can find it both on the App Store and Google Play Store.
6. Feed Baby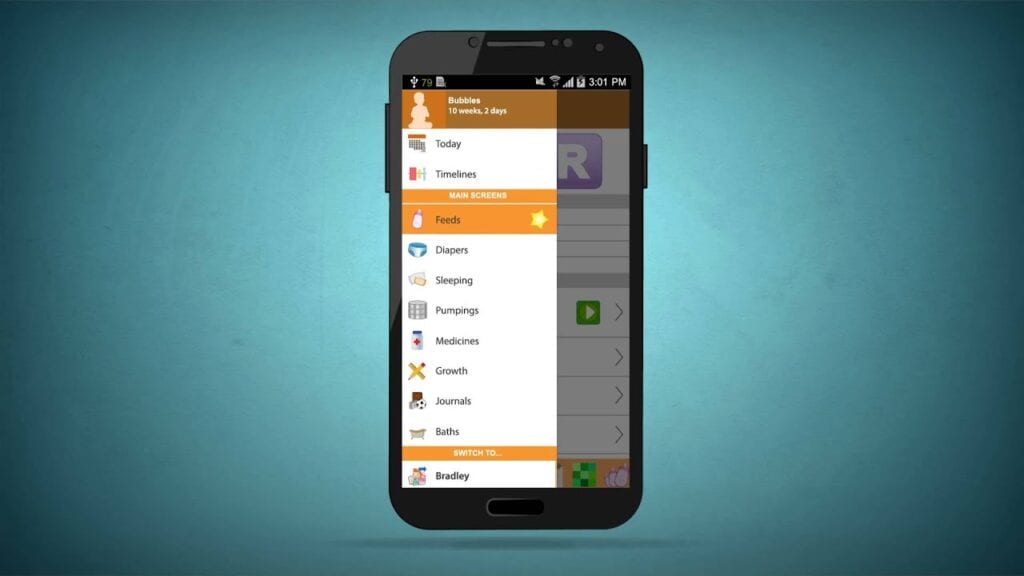 With Feed Baby, you'll be able to keep track of all the feedings, but also you can log diaper changes, pumping sessions, and even sleeping. You get detailed reports on how long the last feeding lasted, and when it was. The information comes in charts and graphs so you will quickly know everything you need to know about your baby. The Feed baby app is free, but there are some in-app purchases available. And it's available both for Android and iPhone users.
7. LactMed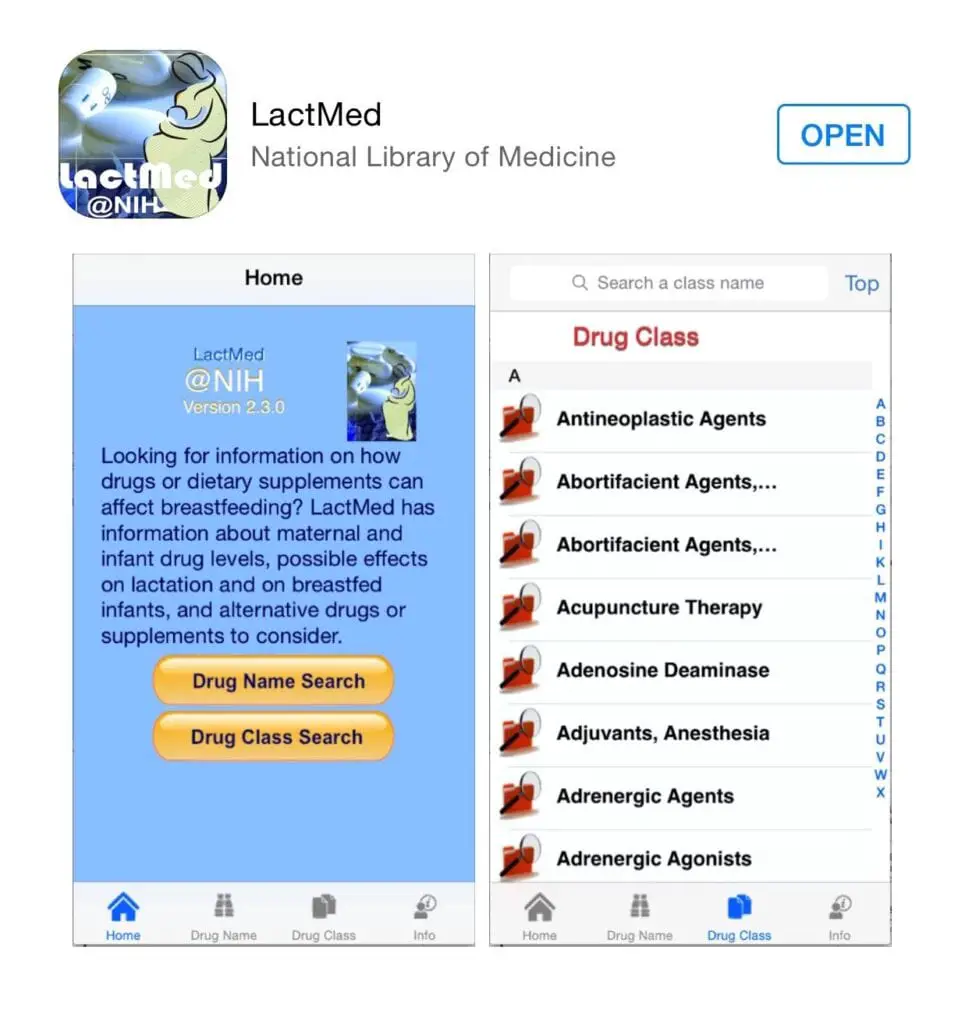 This app is a bit different from the others, but it can help you when you most need it if you don't know which drugs you can or can't use while breastfeeding LactMed can help you. You will get your answers and even a recommendation for other drugs you can use. The app is free and available both for Android and iPhone users.
We hope that we've helped you a bit and that you've found the best breastfeeding app for you. And remember that even if it feels a bit overwhelming, it's normal, and you should always be gentle on yourself.