Welcoming a baby is one of the most precious things to remember. The waiting, the preparation, the ideas, the magic behind the process. From choosing every piece of furniture in the room to all the small details that make it cozy, secure and a great place for growing up. This is something that every parent cares about. Not only the first moment a baby enters the room, but the entire childhood and teen years depend on the first impressions and memories they make in their little oasis. This is also a place where they'll spend most of their time, so it'll have a great role in shaping their personalities.
The decoration of your baby's room is like a blank canvas. It's you who can make a masterpiece out of it. That said, this can sometimes be overwhelming, just like any other beginning, since you might be undecided about the design, colors or style you wanna go with. From a variety of options and unlimited resources of inspiration, ideas and visuals, you need to choose the main items in the room and connect everything else, creating a seamless flow and a vibrant place for your little ones. After you've made a checklist and chosen the essential items for the room such as a baby's crib along with the mattress, sheets and bedding, the nursing table and chair, dressers and drawers, pillows, toys and drapes, is there anything else you should be focusing on? Most certainly! One of the things that have an extremely important impact on a room's atmosphere is – the walls.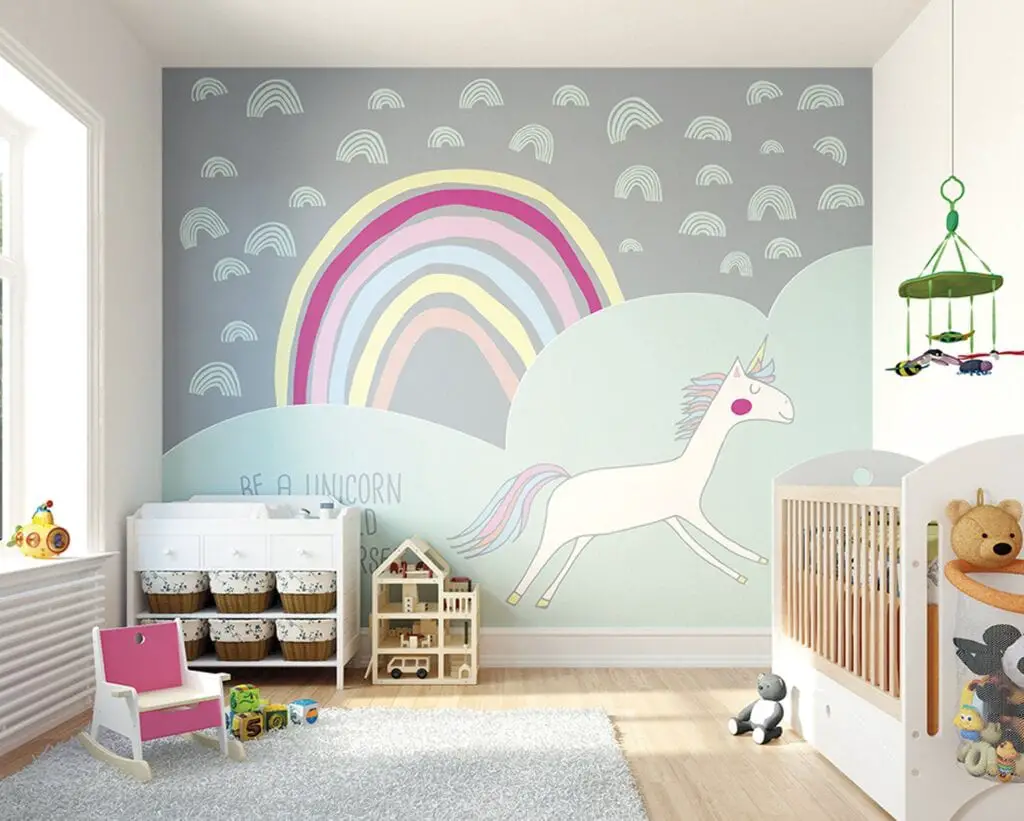 It's not just about the colors, although it's of great importance to choose the right color to begin with. The walls are the place where you can really show your creativity and let your imagination do whatever you want. One thing is certain – if the walls are boring, or they're not aesthetically pleasing, the whole room might feel weird or uncomfortable to spend time in. That's how important the walls are!
So what can you do about that? We suggest that you start with the walls. But not just practically, we're talking about the plan. Try to visualize the room or hire a virtual designer to virtually stage your room and make several options to help you imagine the space, the layout and the colors. After choosing the colors or a theme, it's time for purchasing the main items in the room.
After you get everything you need but before you assemble everything, you can take some extra time for yourself and enjoy decorating the walls. If you're not skilled at decorating, you can always search for other options to make the room perfect. Luckily, new trends in 2021 are bringing a whole lot of fantastic ideas to reach your nursery's highest interior design potential. Here are some of them:
1. Wall stickers and prints
We all know that the baby's room should be colorful and light. However, in the past, it was all about gender, and you had not as many options to choose from. Anything different from the traditional approach had been considered as extravagant and unconventional. In the year 2021, it's all about gender equality, neutrality and – imagination! This means that there's no such thing as strict rules about, well, almost anything! What the new point of view has brought is the freedom to play with colors or the freedom to choose neutral tones for your baby.
Simplicity, modern and minimalistic design features are what's valued as the best solution for every space of one's home – including the baby's room. How can that be applied to your walls? If you have a simple, minimal design, then the stickers and prints on the walls will really stand out, making it a perfect opportunity for you to play and experiment with animals, plants, stars, planets, balloons, rainbows, letters, clouds and other motives.
However, this year is all about llamas and alpacas! If you choose cute alpaca animated stickers, you won't be wrong. Their chunky, happy faces will make your baby smile.
2. Photography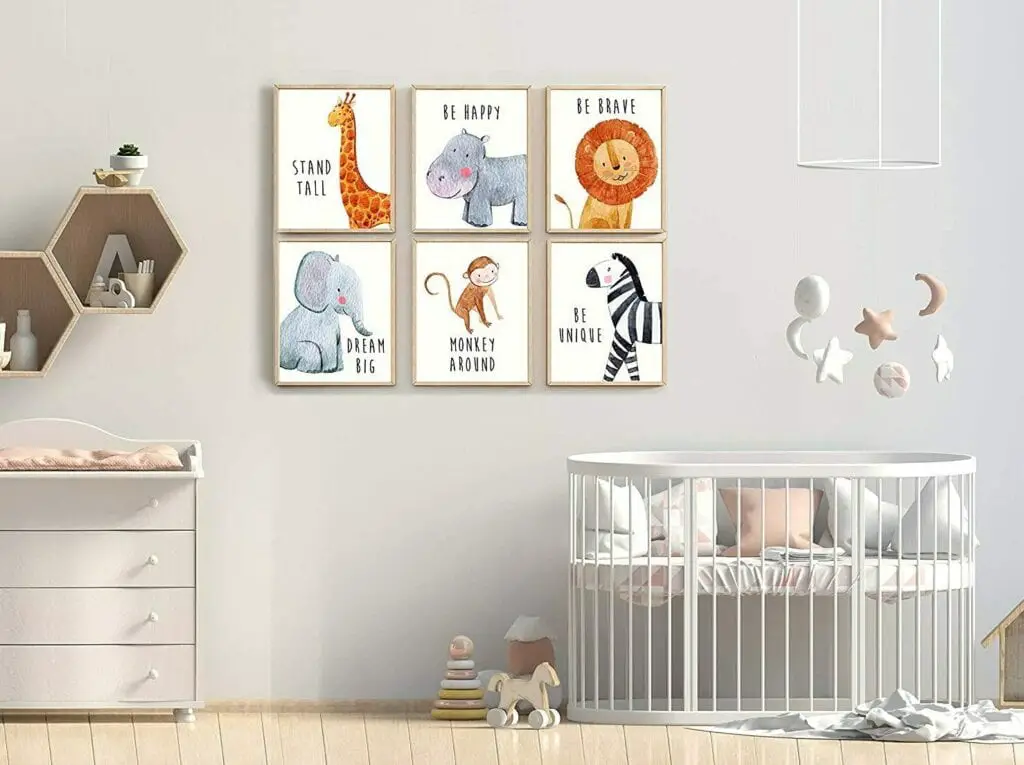 If you're not a fan of animations, posters or prints, then the perfect option for you is photography. You can choose gorgeous professional photos from free websites such as Unsplash, and print them in any size you like. It can even cover an entire wall if it's a picture of beautiful scenery or nature that's calming and aesthetically pleasing.
You can also choose high-quality pictures of plants or animals so that the first beautiful thing that grabs your baby's attention is educational and informative. If you opt for small photos, choose interesting frames and hang them above the crib. Your baby will love them. And you will too! One more advantage important mention is, they can easily be replaced when you get bored by looking at them. Isn't that great?
3. Art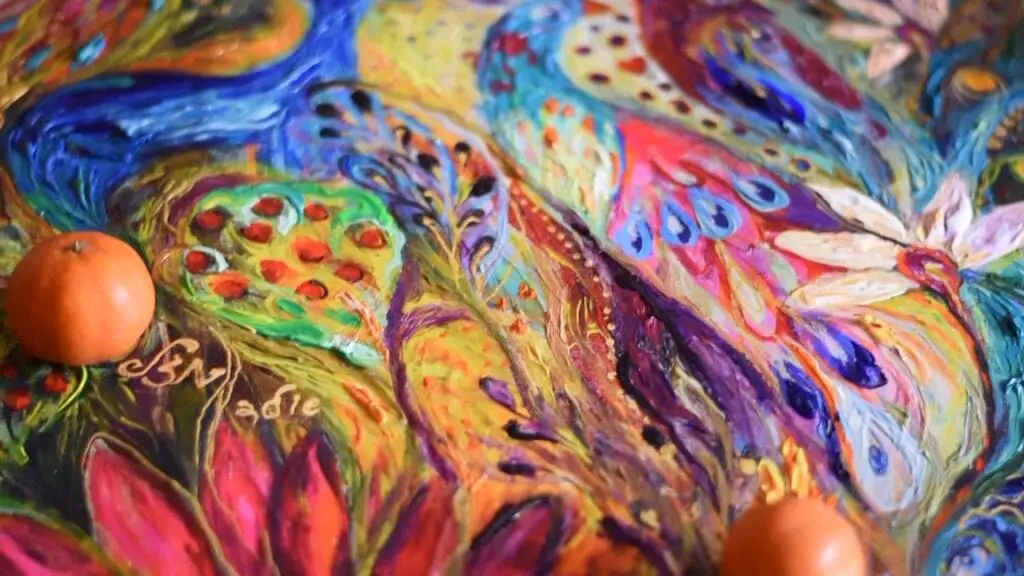 Why is art important in our lives? It's what feeds our souls and plays an incredible role in how we perceive the world around us, us and other people. Art shapes us in many ways, not only when it comes to our tastes and preferences, but also influences and develops our emotional and psychological beings. That's why you wanna surround your baby with magnificent artwork, and teach them how to enjoy, love and cherish art. It's been proven that art affects our mood and emotions, so what's a better way to make your children happier, calmer or inspired than to use artwork to decorate their little sanctuary?
According to Elena Kotliarker, hanging a beautiful painting on the wall will turn that wall into a central spot that catches the attention and invites your child to think, analyze and understand the complexity and the message behind it, encouraging their critical and creative thoughts. 2021 is all about embracing the core human values and improving our personal growth. Isn't it a great idea to use art as a medium?
If you want to create a friendly, inspirational atmosphere for your kids, then less is more. This means that you should focus on functionality, light and space, with only a few meaningful details and accents to grab their attention, make them curious and finally, make a great impact on their life. What will you choose to decorate your nursery today?