Breastfeeding is a great challenge for many inexperienced and first-time mothers, perhaps even greater than motherhood itself. However, breastfeeding does not have to be a problem at all because it is a completely natural thing, and also the best possible nutrition for your baby in the first few months after birth. The fact is that through breast milk, babies get all the necessary vitamins, proteins, carbohydrates, as well as other necessary nutrients. Also, by breastfeeding, babies build their immunity and take in antibodies that help them be healthier, stronger and better developed. So, there is no reason for a baby not to receive breast milk, which is so healthy and beneficial.
However, we must also mention the fact that today there are so many sources of knowledge, guides, products dedicated to breastfeeding, supporting and making it easier for inexperienced mothers. For example, one of the nursing products is breastfeeding bras. At first glance, these bras look almost identical to the ones you wear every day. However, special design for easy access and comfortable breastfeeding, for both baby and mother, is the thing that makes a difference.
Inspired to provide support and encouragement for all moms, we decided to create the following list of the best breastfeeding bras that the market currently has to offer. Below you will find some of the best products. Now, if you're ready, let's get started.
1. Bravado Designs Buttercup Convertible Maternity/Nursing Bra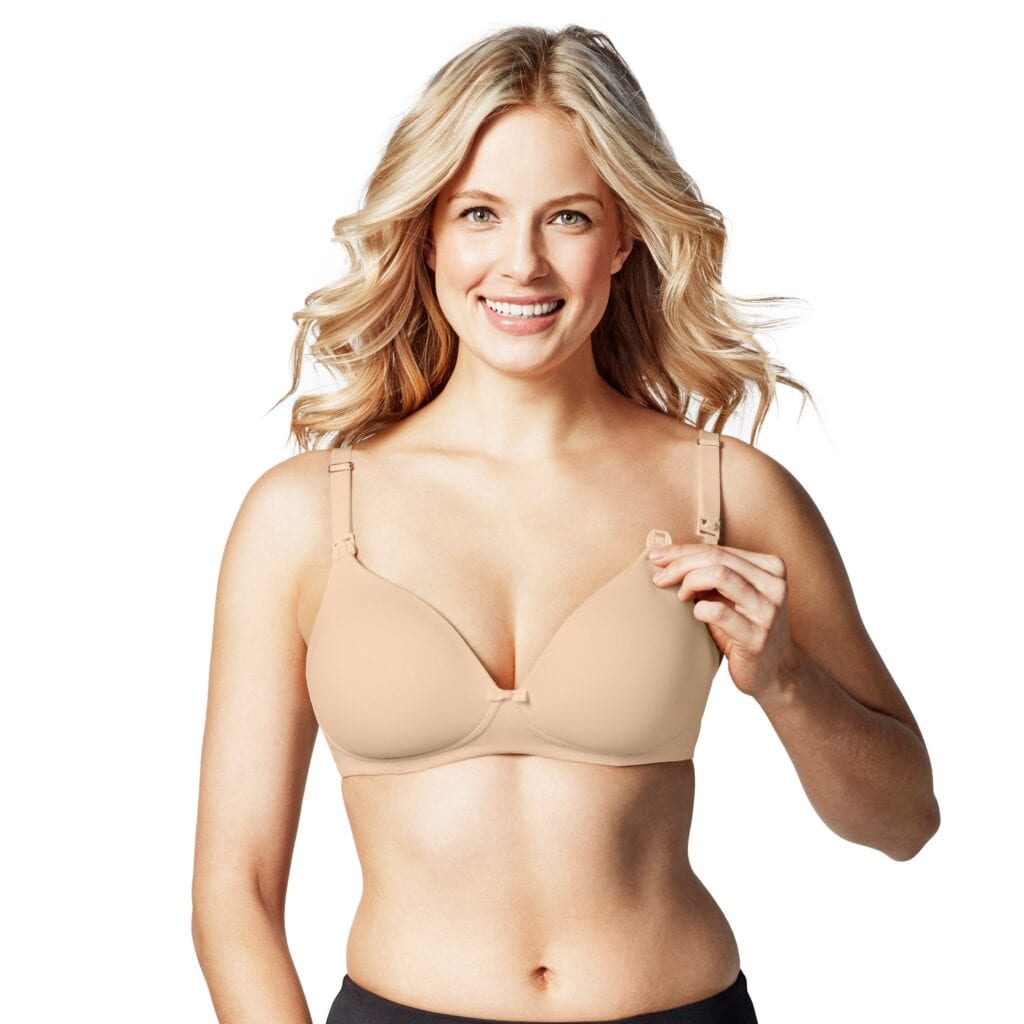 According to many customer reviews, Buttercup Nursing Bra by Bravado Designs is overall the best solution for your new breastfeeding bra. The first, perhaps the most important feature of this bra is its comfort. Literally, this bra is comfortable and soft so it won't cause you any problems or spoil your outfit.
In addition, the Buttercup Nursing Bra is versatile and multifunctional. You can wear it in different situations, when you are at home when you are walking with your baby, and even when you are at work or at a meeting. Also, regardless of the size of your breasts, you will be able to find the right one because sizes from 38B to 40G are available.
Another big plus for this breastfeeding bra is the "B" nursing clips. These clips give you easy access which is very important if the baby is hungry and starts crying. In terms of price, the nursing bra by Bravado Designs is available for around $52.
2. iLoveSIA Nursing Bras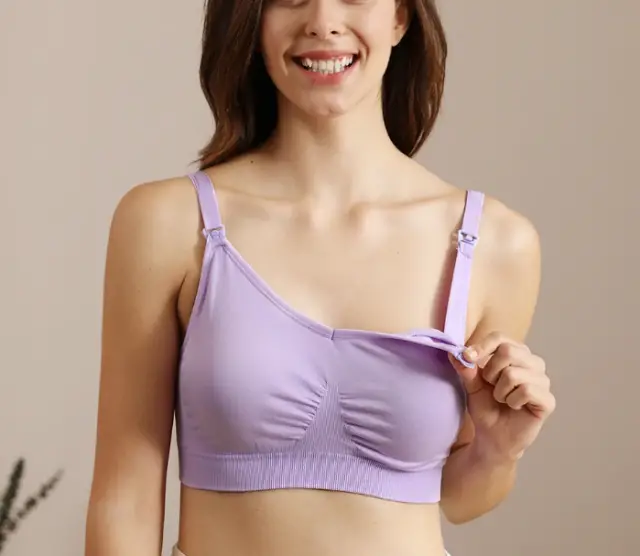 If you think that the previous nursing bra is expensive, then we suggest you check out this budget-friendly model. Simply, saving on this equipment is perfectly fine because you can spend the saved money on something that may be more necessary for the baby.
Although this nursing bra by iLoveSIA is a bit cheaper (current price around $30), we can say that it is definitely one of the best on the market. First of all, a lower price does not mean lower quality or compromises when it comes to comfort and functionality.
In contrast, this breastfeeding bra is made of a very gentle, soft and stretchy material providing proper support for your breasts. Also, there are "openings" for easy access. We must also praise the good selection of sizes (from the smallest to XXL), as well as three colors (white, beige and black).
3. Simple Wishes Signature Hands-Free Pumping Bra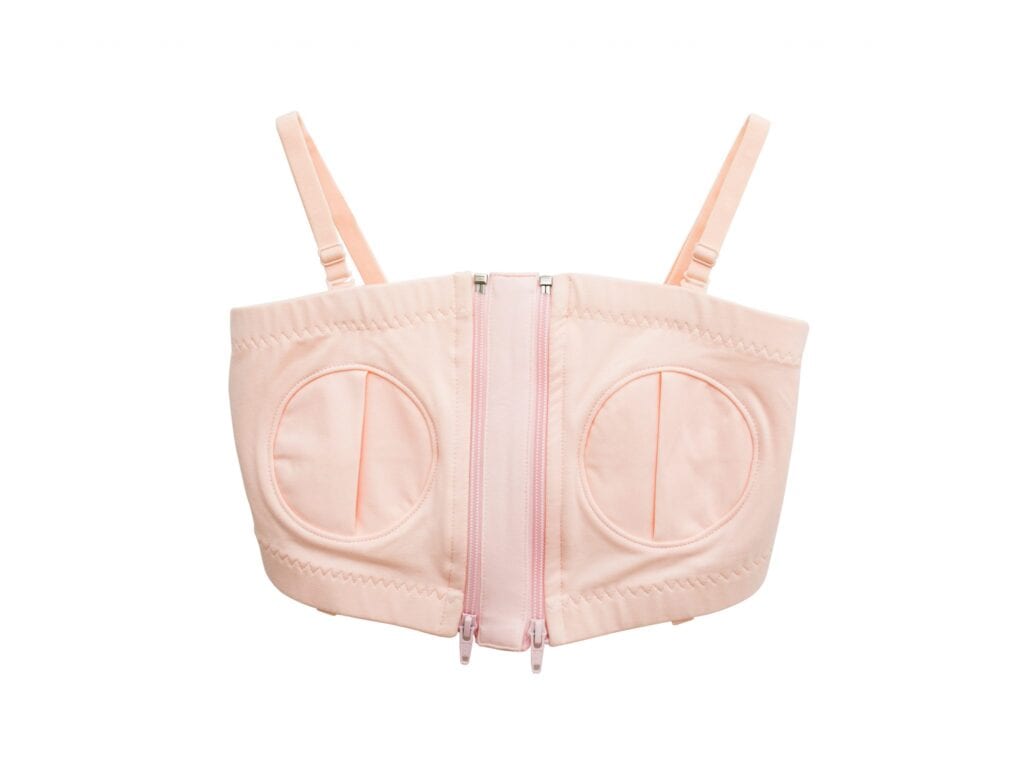 We have said that breastfeeding is the best way to feed an infant. However, in certain situations, it is not convenient to breastfeed a baby. For example, if you are at work and your baby is not with you, then you need to turn to other ways to provide a supply of breast milk until you get home. This involves the use of a breast pump.
In such situations, you need to have a suitable bra, and one such comes from Simple Wishes. Although it may seem strange to you, this bra is actually very comfortable, multifunctional and purposeful. For example, you can do some other things while pumping, all hands-free.
Also, no matter what breast pump you use, it definitely fits with this breastfeeding-pumping bra. Simple Wishes bra is available in two colors, as well as sizes from XS to L-Plus. In terms of price, this one by Simple Wishes costs about $43 right now.
4. Morrow+Mint Dot Mesh Nursing Bralette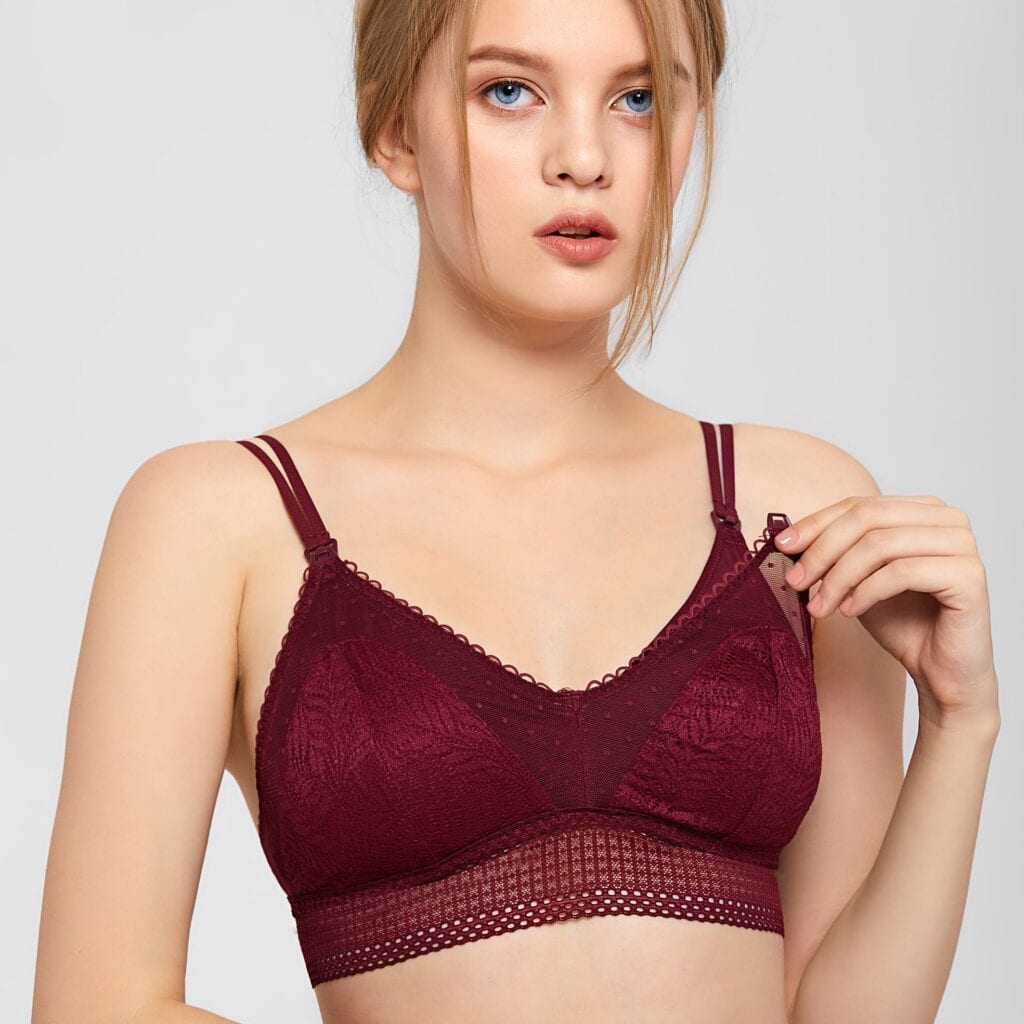 How about a bra that's there, but you don't feel like wearing it? Plus, it's wireless. Of course, we don't mean Wi-Fi, there is no internet here, but also no wires. This means that this breastfeeding bra by Morrow+Mint is made primarily with comfort, lightness and a beautiful design in mind.
Indeed, the fact that there are no wires will make your daily activities as well as breastfeeding easier. The great thing is that you will definitely be able to find the right size and color for you in a wide range from small to XL sizes, as well as among pink, ivory, black, gray and maroon colors.
5. Kindred Bravely Sublime Sports Bra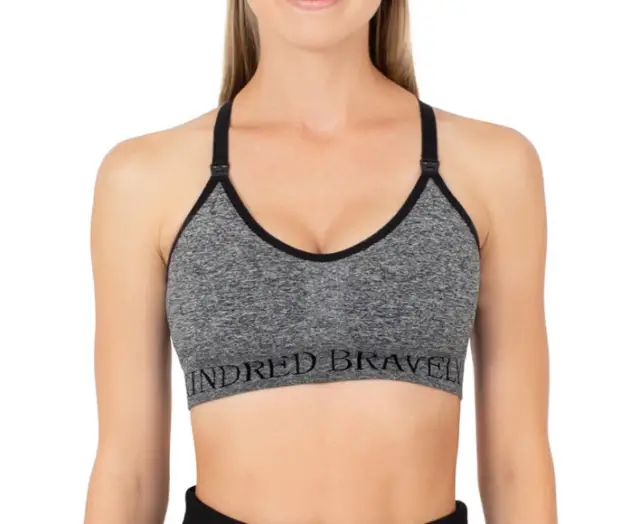 The fact is that moms have a better appetite during pregnancy. However, this is logical and quite understandable. But the problem of excess weight can bother you after giving birth. In these situations, we believe that it is great to exercise whenever you have free time in order to get back in shape.
But don't forget you are a mom who has to take care of the baby and all of his/her needs. In such situations, it would be good to have one of these bras by Kindred Bravely. This sports bra will allow you to be active, but also to breastfeed your baby whenever necessary. It is well-shaped, elastic, soft, light, but also very comfortable, no matter what you do.
Clips on the straps will allow you easy access without difficulty. In terms of price, this one is currently available for about $48.
6. Le Mystère Sexy Mama Underwire Nursing Bra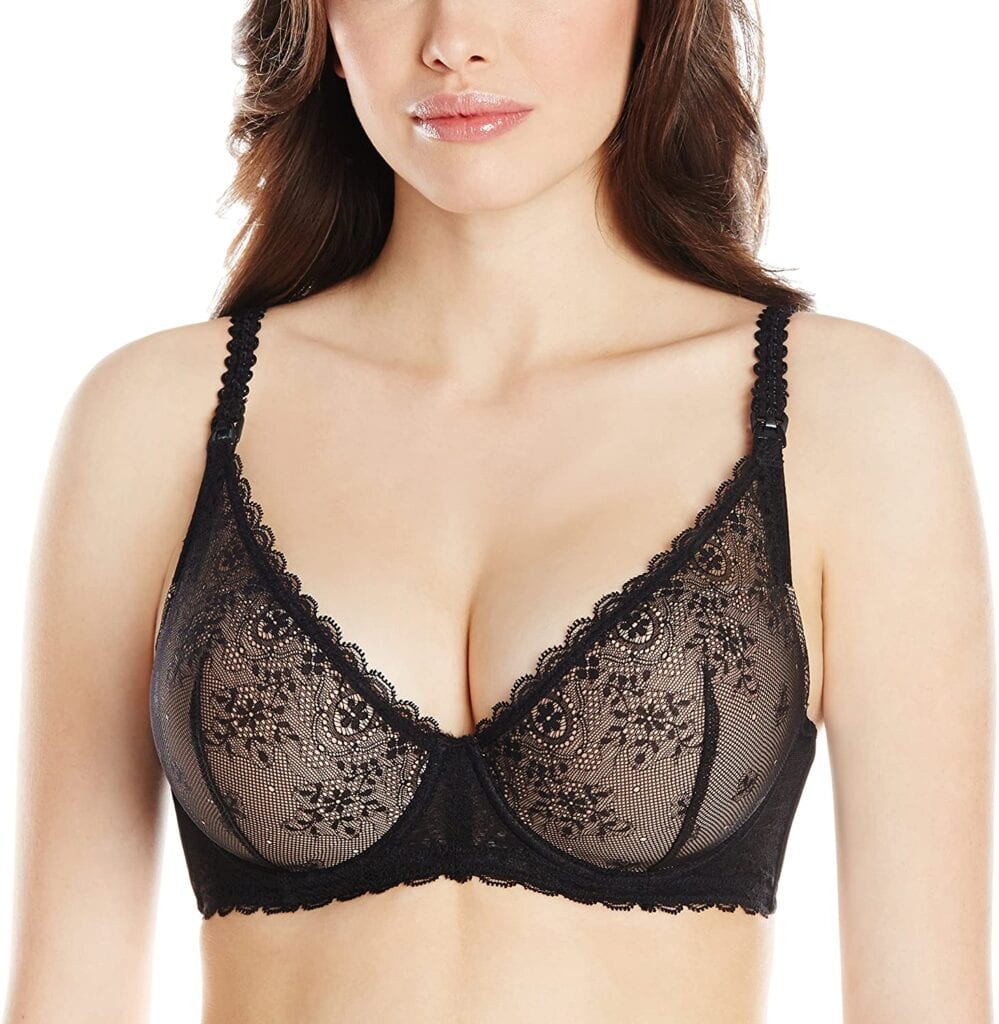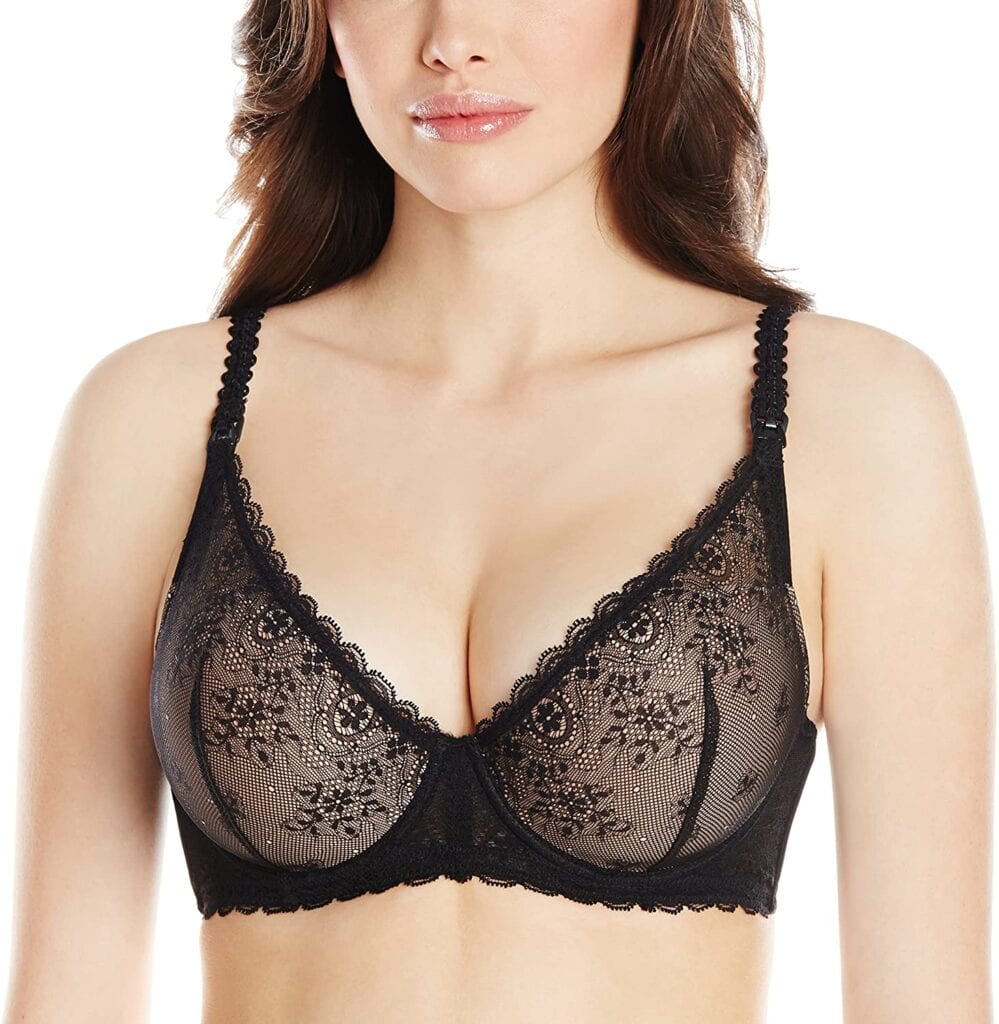 Being a mom doesn't mean you shouldn't look beautiful and sexy. On the contrary, you can also take care of your baby's needs and be sexy at the same time thanks to this nursing bra by Le Mystère. As you can see, this bra is very nicely designed and practical. There is a sexy peekaboo lace as well as easy-access clips so you won't have any problems while breastfeeding.
A great thing is the availability of a large number of sizes, but also two different colors-ivory and black. In terms of price, it is slightly higher than for previous models, more precisely $66.