Taking care of a child is not easy. On the contrary, there are a lot of challenges you have to face, and the whole situation is even more difficult if you haven't had children before. Inexperienced parents often encounter difficulties during the first few months after the birth of a child, and even during the first year of life.
One of the most common challenges new moms face is breastfeeding. Simply put, inexperience is the main problem. If you have similar problems, you can seek help from your parents, go online or ask an expert.
The challenge of breastfeeding has some catches that you can find online. This way, you can come up with many useful tips shared by people who may have had similar problems before. For example, we have a tip for more comfortable breastfeeding. Today, we will talk about breastfeeding chairs. These products are specially designed to help you calm your baby but for both, you and your newborn, to feel comfortable.
Inspired to bring you some useful tips and in some way help moms cope with breastfeeding, we decided to create the following list of the best breastfeeding chairs. Below you can find some of the best products that the market has to offer in 2020. So, if you are ready, let's get started.
1. Babyletto Madison Swivel Glider
The fact is that breastfeeding chairs are pieces of furniture that need to fit perfectly into the interior. Therefore, it is necessary to find a solution that is space-saving, comfortable, has good additional functions, armrests, but also that it is easy to clean.
Well, there are a lot of requirements that a breastfeeding chair needs to meet so that you can consider it a good and suitable product.
One such is the Babyletto Madison Swivel Glider. This chair is primarily designed to be durable, to save you space, but also with certain additional functions that are very useful. For example, there is a 360-degree rotation function here. In addition, the microsuede material used in the production is water-resistant, but at the same time very soft and comfortable.
One of the features we especially like is the back and forth movement. Simply, this chair offers you quite a lot even though it is relatively small in size. In addition, this product also comes with a 1-year limited warranty. Another, and perhaps the best thing is that you can use it even when your baby outgrows breastfeeding because it provides fantastic resting performance.
2. Naomi Home Brisbane Glider
Another breastfeeding chair with great features is the Naomi Home Brisbane Glider. This one was made of a wooden frame, so durability and longevity was the primary feature in the production.
However, superior endurance is not all it has to offer. We especially like that you get an ottoman, a great thing if you want to put your legs up during breastfeeding in a more comfortable position. Also, the material used to make the upholstery is very comfortable, soft, but also easy to clean in case of stains.
Of course, we must mention a wide seat that provides maximum comfort, as well as the back and forth movement function that will help calm the crying baby while waiting for breastfeeding. On the sides, there are two pockets that you can use to store some necessary things. All in all, with numerous features and quality design, the Naomi Home Brisbane Glider is certainly among the best breastfeeding chairs on the market in 2020.
3. Dutailier Sleigh Glider-Multi-Position Recline Glider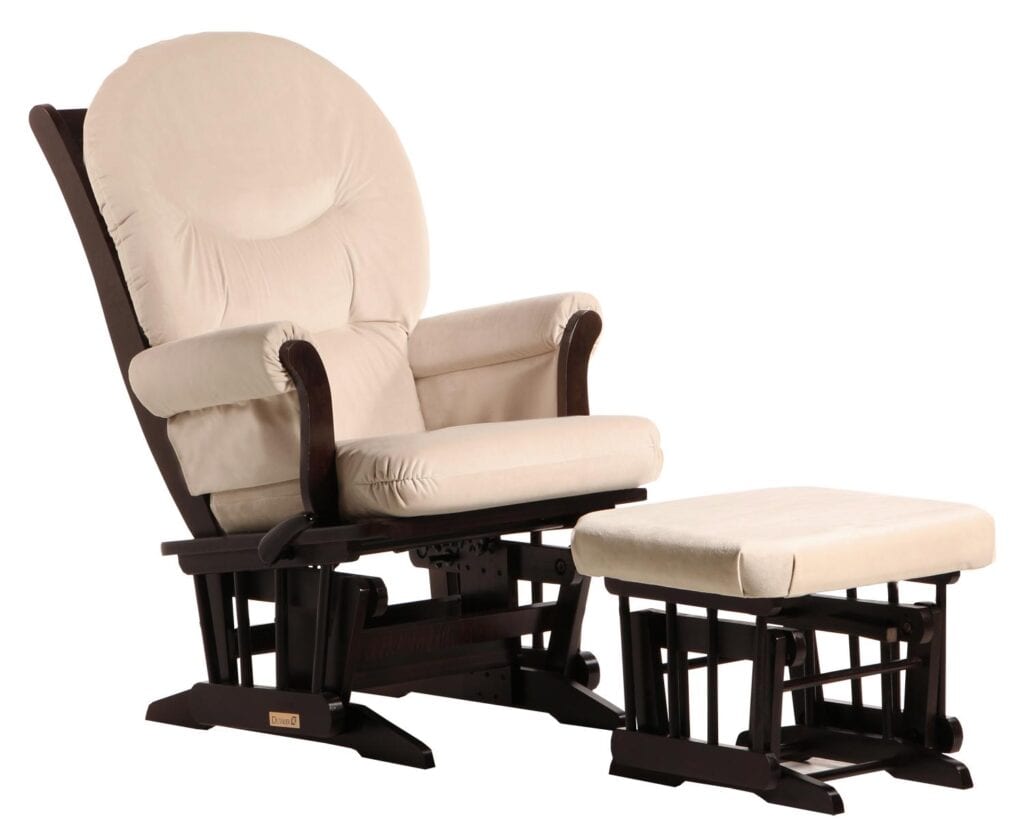 As you can see, the main function of this breastfeeding chair is the ability to be placed in multiple positions for better comfort. To be completely precise, this chair can be placed in as many as 6 different positions thanks to the excellent mechanism.
In terms of workmanship, 100% polyester material was used as upholstery, while the frame was made of metal, and metal bearings were installed to enable the gliding function. All pillows are very comfortable and stain-resistant.
Just like the previous breastfeeding chair, this one also comes with an ottoman so you won't have to buy an extra one. The only "drawback" we would point out is the somewhat harder way of assembling, so you will need more time to do that. However, once assembled, the Dutailier Sleigh nursing chair will bring you a lot of enjoyment and comfort.
4. Windsor Glider and Ottoman
As you can see, this chair also comes in a package with an ottoman, so it's a great thing. Trust us, these chairs are really top-notch. There are some models that are much more expensive, and don't include an ottoman, or don't have too many additional features. So, any of these on our list are there for a reason because they really are among the best on the market in 2020.
Specifically, this one has an advantage over some other models because it has a fairly large seat. This means it brings extra comfort and space to leave something next to you at your fingertips. Although, thanks to the storage pockets located on the side of the armrests, you won't have to use the seat for anything but seating.
Maintenance is extremely simple because you can detach each of the pillows and clean them very easily. The quality of workmanship is at a high-level thanks to the solid frame, but also the material used for the pillows and the upholstery of the armrests. We must also single out the easy assembly procedure.
5. Angel Line Windsor Glider, Black with Beige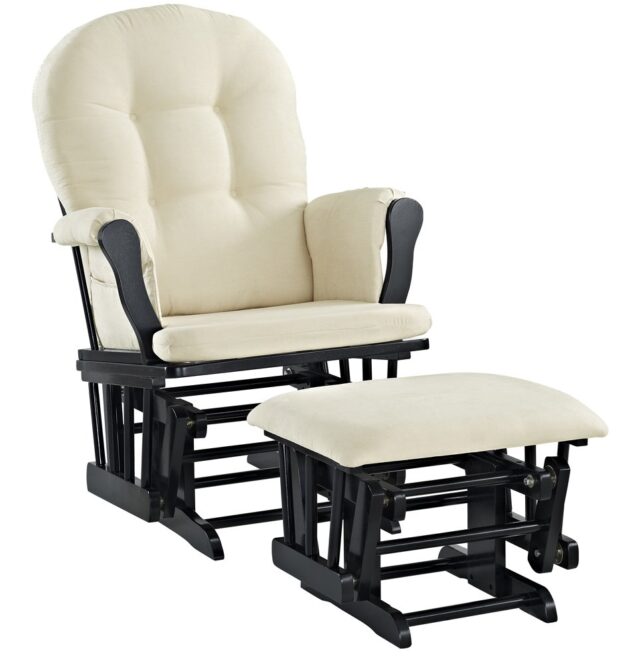 In essence, this model is very similar to the previous one, but we cannot say that it is the same. As you can see, the manufacturer is the same, but the design and colors of the pillows and upholstery are different. The main difference is that this model has a slightly larger seat, but not too much.
The material used on pillows is made is 100% polyester, which guarantees that there will be no problems even if some liquid is spilled on this chair. If some stains do form, you can very easily remove all the pillows and wash them.
This model also includes an ottoman and storage pockets on the side of the armrest. As for the assembly process, it is very simple and doesn't require you to spend a lot of time. Generally speaking, the durable design and high-quality workmanship will guarantee that you can use this breastfeeding chair for many years after you stop nursing your baby.